Full Duplex Radio for Carrier Ethernet Backhaul Transport
Mimo Tech - JANUS 23G AIR DUPLEX
Air Division Duplexing
(With CCDP on both LB and HB frequencies)
With Patented AirDuplexTM technology, Mimo tech's latest product can provide in excess of 1 Gigabit per second full duplex throughput in a 28 MHz CCDP channel (go + return) with a single radio unit. This is double the spectral efficiency of conventional solutions.
Why go to mmWave backhaul if you have spectrum below 42 GHz that could be used to for Gigabit Ethernet backhaul?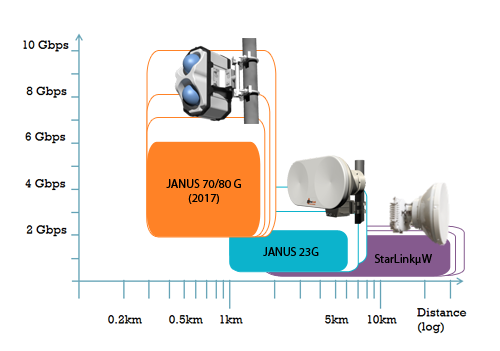 Full Duplex Radio for Carrier Ethernet Backhaul Transport
JANUS 23G AIR DUPLEX
What is AirDuplex™ ?
Air-Division duplexing is a patented duplexing method from Mimo Tech that makes use of MIMO and spatial multiplexing techniques to achieve simultaneous transmission and reception of data on each carrier frequency.
Air Division Duplexing doubles the throughput capacity of the Mimo tech Janus AirDuplex™ compared to traditional microwave links making it possible to achieve a full duplex throughput of >1 Gbps in a 28 MHz channel allocation or up to 2 Gbps throughput in a 56 MHz channel allocation.